Mexicana
"White Dove" Republic of Mexico – £2,000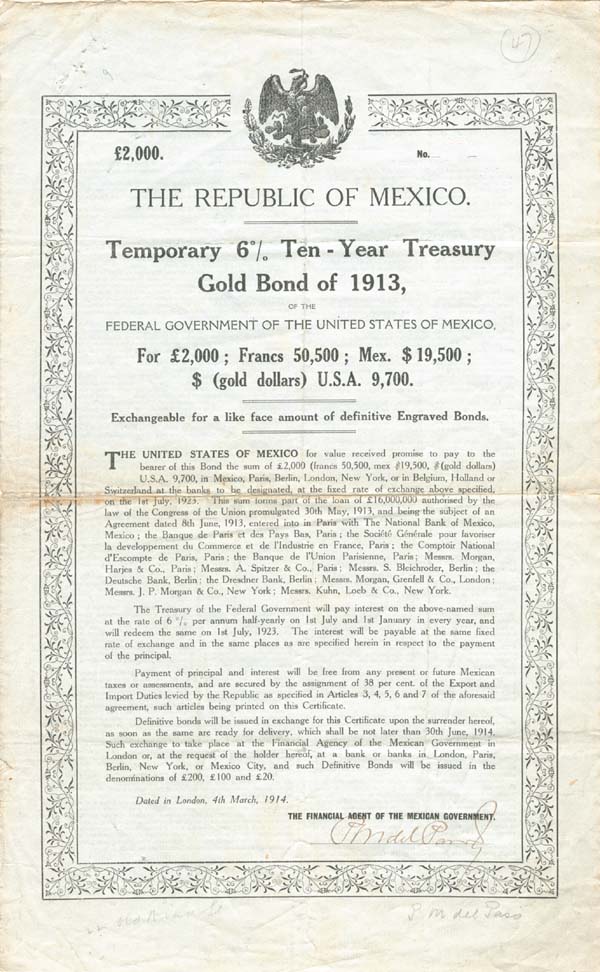 Country: Mexico
Years: 1913
£2,000 6% Gold Bond. Nickname: "White Dove"
---
Double White Dove – Republic of Mexico – £20,000 – Bond
Country: Mexico
Years: 1913
£20,000 Temporary 6% Gold Bond. Nickname: "Double White Dove"
Condition: Excellent
---
"Christopher Columbus" 1885 – Republica Mexicana
Country: Mexico
Years: 1885
$1,000 Series 6A Bond. Nickname: "Christopher Columbus"
Condition: Excellent
---
Two Presidents Bond – Tamaulipas and San Luis Potosi
Country: Mexico
Years: 1865
$1,000 or Mil Peos Bond printed by United States Bank Note Co. N. York. Known as "2 Presidents". Vignettes of Washington and Lincoln! Text in Spanish and English. Rare! Please click on "view larger image" to see back of bond. All have 25 Coupons.
Condition: Excellent
---
"Pink Lady or Red Diamond" Estados Unidos Mexicanos £20/100 Pesos Bond
Country: Mexico
Years: 1895, 1896, 1898
20 Pound, 100 Pesos, 5%, Series A Bond. Various Letras. Nicknames: "Pink Lady or Red Diamond". Includes PASS-CO authentication. Available in dates 1895, 1896 or 1898. Please specify date.
Condition: Excellent
---
"Pink Lady Type" – £200/1000 pesos Estados Unidos Mexicanos 1898
Country: Mexico
Years: April 1, 1898
Uncancelled Bond Certificate, Letter J. Redeemable 5% Internal Debt. Third Series. $1,000 200 Pound Sterling. "Pink Lady Type" Violet. Authorized under the law of May 29, 1893, and a further decree of September 6, 1894, providing for the restructuring of the nation's internal debt. These were issued for government funding assistance "in accordance with concessions granted to railway undertakings and public works, and for the consolidation of the floating debt from the 1st of July 1882." Includes Talons.
Condition: Excellent
---
"Queen Victoria" – Banco de Londres Y Mexico – 1,000 Pesos – Bond
Country: Mexico
Years: May 10, 1905
Uncancelled Bearer Stock certificate for ten shares of $100 (pesos) each/1,000 Pesos, thus totaling $1000 (pesos). Known as the "Queen Victoria". The bank was one of only two Mexican national banks that was chartered to conduct business across state lines and was the second largest in the nation. Extremely Rare!
Condition: Excellent
---
"Black Eagle" – 20,000 Pesos Tesoreria General Bond
Country: Mexico
Years: Nov. 27, 1843
Condition: Excellent
Bond for 20,000 pesos bearing 6% interest known as the Black Eagle. Issued pursuant to a supreme decree of May 11, 1843 by interim president Antonio Lopez de Santa Anna. These bonds were to pay interest from June 1, 1843. Repayment of this bond issue was secured by 25% of all maritime customs duties with the exception of those deriving from Matamoras, which were to be exclusively devoted to the servicing of the principal and interest of this debt. All "Black Eagle" bonds are cancelled and are in great demand.
Important facts related to the "INFAMOUS" 27,500 denomination of the 1843 "Black Eagles".
We regret that all the 27,500's that exist have been fraudulently altered. Mexico never issued any of these 1843 bonds in any denomination above 20,000 Pesos. We have seen only two of the 20,000 Pesos on the market to date. This highest ligitimate denomination is truly rare. As for the 27,500's, only fraudulent examples exist with various digits erased and altered in the denomination. These altered (faked up) bonds have no merit or value. Unfortunately, hundreds of people are being sent on a "wild goose chase" to find them. There are reports that there are a few authentic examples, however this is not true. All in all 27,500's are fraudulent.